Regular price
$89.00 SGD
Sale price
$85.00 SGD
Unit price
per
Sale
Sold out
You can control your lights remotely wherever you are. Check if you have forgotten to switch your lights off before you left your home, and switch them on if you are working late.
Hue - Control via your smart device
Connect your Philips Hue lights with the bridge and start discovering the endless possibilities. Control your lights from your smartphone or tablet via the Philips Hue app, or add switches to your system to activate your lights. Set timers, notifications, alarms, and more for the full Philips Hue experience.
Hue - Create your ambiance
Set the right ambiance for any moment and decorate your home with warm white to cool daylight. Enjoy different styles throughout the year, no matter if it's the crisp white light reminding you of a spring sun, the warm white light of a summer, or the cool daylight of winter.
Hue - Dimmable
Experience guaranteed smooth dimming with Philips Hue. Not too bright. Not too dark. Just right. No need for wires, an electrician or installation.
Hue - Light schedules for home automation
Philips Hue can make it seem like you're home when you're not, using the schedule function in the Philips Hue app. Set the lights to come on at a pre-set time, so the lights are on when you arrive home. You can even set rooms to light up at different times. And of course, you can let the lights turn off gradually in the night, so you never have to worry whether you've left any lights on.
Hue - Wake up and go to sleep naturally
Philips Hue will help get you out of bed the way you like it. Start your day smoothly with a warm sunrise. The gradually increasing brightness gives you the feeling you are waking up from natural light - rather than the rude awakening of an alarm. Start your day, the right way. In the evening relaxing warm white light helps you to unwind, relax and sleep better at night.
Material: aluminium
Fitting Color: white
Product dimensions 
Cut out size (7w) : 12.5  cm (Outside Diameter: 15 cm)
Cut out size (10.5w) : 15.0  cm (Outside Diameter: 17 cm)
 
Requires a Philips Hue bridge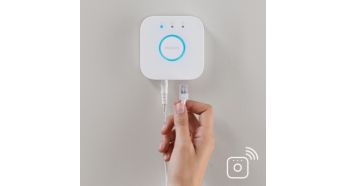 This product requires a connection to the Philips Hue bridge
Specifications:
Mains power: 230 V
Number of bulbs :40
Total lumen output fixture: 600 lm (7w)/900 lm(10.5w)
Fixture dimmable: Yes
LED:Yes
Built in LED: YES
Lifetime: up to 25,000  hrs
IP code:
protection against objects bigger than 1 mm

protection from splashed water
Class of protection :II - double insulated
Warranty: 2 year carry-in.
Share
View full details